graphic borrowed from prettybooks
So I've decided to take the 2014 challenge and read 50 books this year.  I've gathered a list of 25 of the 50 books this year.  In total, it means I have to read about 4 books a month.  Which isn't too bad (unless you're like me and you read slowly).  My list thus far includes book both on my shelf and on my kindle.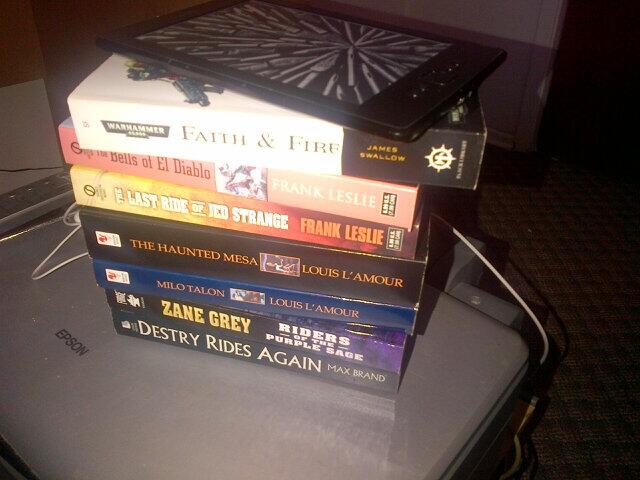 Here's the complete list of the first 27 books:
The Sincerest Form of Flattery – John Walker
The Blame Game – John Walker
In The Details – John Walker
Hal Spacejock – Simon Haynes
Above Ground – A.M. Harte
The Time Machine – H. G. Wells
The War of the Worlds – H. G. Wells
The Lost World – Sir Arthur Conan Doyle
Carmilla – Joseph Sheridan Le Fanu
Treasure Island – Robert Lewis Stephenson
The Three Musketeers – Alexandre Dumas
Alice's Adventures in Wonderland – Lewis Carroll
The Wind In The Willows – Kenneth Grahame
White Fang – Jack London
The Call of the Wild – Jack London
Never Cry Wolf – Farley Mowat
Paradise Lost – John Milton
A Tale of Two Cities – Charles Dickens
The Bells of El Diablo – Frank Leslie
The Last Ride of Jed Strange – Frank Leslie
The Haunted Mesa – Louis L'Amour
22 Milo Talon – Louis L'Amour
Riders of the Purple Sage – Zen Grey
Destry Rides Again – Max Brand
Faith & Fire – James Swallow
Ragnar & Juliet – Lucy Woodhull
Ragnar & Juliet II: Concubine Boogaloo – Lucy Woodhull
Three books down, 24 to go.  For anyone who is trying to write, reading helps spark some imagination.  You can't write if you don't read.  Reading gives you a good insight into plot development, characterization, plus all of the gramar skills needed to put good sentences together.